Welcome Center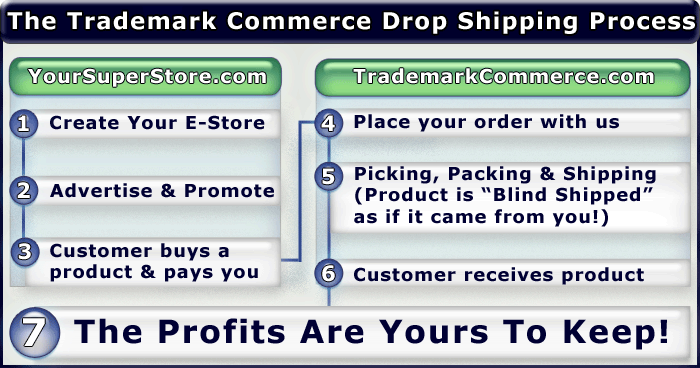 What Is "Drop Shipping?"
This is how it works: you sell a product online at a price you choose. After your customer buys and pays for the item, you place an order for the product you just sold with the drop shipper - That's us.
The drop shipper charges you a wholesale price and ships the product directly to your customer. You keep the difference between the wholesale price and the retail price you charge your customers.
No Storing Inventory
Unlike "middlemen companies ", we are the source of our products: let our 150,000 square feet of storage space be your warehouse. Order what you need when you need it. You can even download our live inventory feed which is updated every two hours.
No Shipping Hassles
Trademark Global specializes in blind drop shipping – this means that your customer will have no idea we exist. Even better, we ship fast and on time because everything is under one roof. Never worry about where your items are coming from or when they'll reach your customer. Let us make you look good!
Easy Listing
When you sell with Trademark Global you have access to our professionally designed listings and our team of customer service agents dedicated to helping your website succeed. The work is done for you, all you have to do is sell!
Set up your account now, for free, with no fees or minimum purchase requirements. Sell as little or as much as you want.
Unlock the potential growth of your online business with Trademark Global, America's #1 Drop Shipper.